The Pomade Review - First Review
Hello, I'm Andrew Sugianto. An Indonesian based in Sydney, Australia. I haven't done a lot of pomade review but I have quite a few collection of pomade myself.  I have used these pomades, switching between different ones everyday to find the right one for my hair type. A couple of these pomade really suit and blend in well with my hair type.  I like both water and oil based pomades. Personally, I can't choose between these two. To choose the pomade I will use for the day will depend on my mood, the weather outside (Sydney weather is crazy) and sometimes how much build up I have in my hair.
My hair. The length is 1.5 inch on the sides. The top is approx. 7 inch long. My hair is fairly thick and straight. The individual strand of my hair itself is pretty thick.
This is my first ever pomade review and I have chosen 'The Pomade'. The reason why I chose this is because this is a really interesting collab between one of my favorite homebrewers. As this collab had just been released, I believe many people haven't reviewed it. I mean, why not? You pretty much get both quality of O'douds and PND in one beautiful jar designed by The Pomp.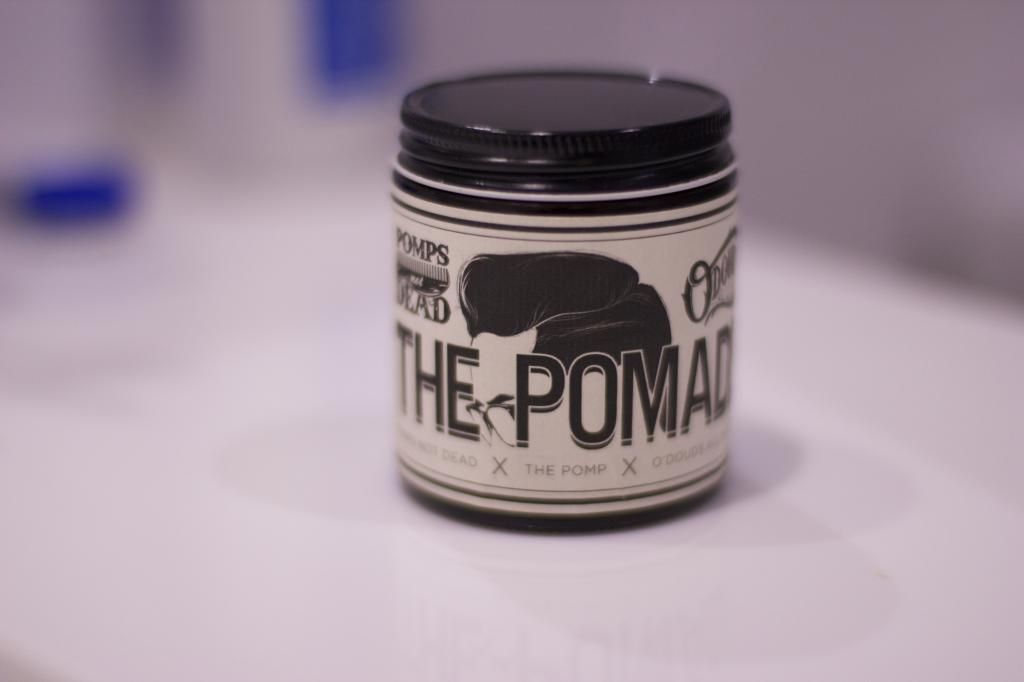 Let's jump straight to the review. We'll start with the packaging. Personally, the monochrome based packaging caught my eye. Its simplicity made it stood out of the other pomade packaging that tries too hard on their packaging, like Schmiere, Cock-grease. For some people, packaging is pretty important for the user himself, it might describe his persona.
The scent. Straight up woody, unlike iron society, which has a strong spicy scent to it. Also too masculine for my liking.
Texture. When you start digging into the product itself, the top layer is a bit hard to scoop out. Once you pass the top layer, it scoops out pretty easily. You can feel the wax when you smear it on your hand, at this stage, you'll feel the butter-like texture of the product.
Applying. Super super easy as what you would expect from O'Douds and PND's products. Up until now, I still can't find the contribution and characteristics of PND in this product.
Styling. The combing process itself is really smooth and I can assure you the slickness and control of this product is excellent. For me, a product that has the right amount of wax and oil will determine the slickness and control of the product. Too waxy, will make the product too hard to apply; you get some to no slickness at all. Too oily, you pretty much could use the amount of oil on your face to cook a sunny side up.
Shine. Basically, it's not too shiny to blind your f*cking eyes. It's only a notch up to your natural hair shine. 
Hold. Not bad at all for a medium weight oil based pomade. It is definitely stronger than PND and O'Douds Original. But not as strong as O'Douds heavy weight. You could say this product is midway between medium and heavy weight pomade. This is really good; you still get natural look and feeling on your hair but you don't sacrifice the hold that medium weight pomades offer.
Re-styling. Super easy, like most oil-based products in the market.
Build-up and wash out. It is similar to Iron Society and Grandad's. It should wash out completely after 1-2 wash.
Overall, this product has a perfect amount of hold and slickness for my type of hair. It gives my hair a natural shape and feel to it. Love the amount of shine that appears on my hair. Scent, perfect and subtle, definitely does not insult your nose. For me, the characteristics of PND do not stand out in this product. As for me, I can only see characteristics of O'Douds majoring in all parts of the product. Basically, this product is O'Douds Original with less shine and more hold. The ingredients in O'Douds are also similar to The Pomade.  The Pomade is perfect for me. Scent, hold, shine, texture, slickness, control and packaging, excellente!  It's up to my standard and I couldn't ask for a better one.